Well, new year usually means trying to get things done, and so far, I've just been procrastinating. Even about blogging! Anyway, I have a few projects to share:
I've been swatching for
Wicked
in order to participate in the
Sexy Knitters' Club KAL
. I love the orange of the Patons Classic Wool, so I'm hoping to have it cast on by the end of the week.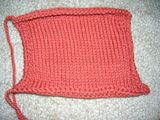 Bejeweled
is definitely one of the most entertaining projects I've done in a while, it seems like every time I pick it up it grows infinitely. Can't wait to block it into lacy goodness and wear it constantly. The yarn is Universal Yarn, Inc.,
Eden Silk
. For some reason, the yarn feels better in the skein than in the scarf, but once it's had a nice Eucalan bath that ought to change.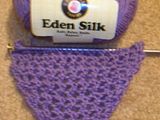 I though Icarus and I were getting along just fine, but then the knitting gods as usual reared their ugly heads(that's my story and I'm sticking to it). I had been reading the chart from left to right because that's how I learned to read (books). I guess I figured that I knew everything. So, I read
Eunny's blog
and all of her
lace primers
and I realized that starting over was exactly what I needed to do, and now it's coming along very nicely.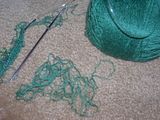 Plus another book full of ideas: the new
Knitscene
(one of my favorite mags)!! I already am planning to make the
Ladybug
(scroll down: it's #20) headband out of some leftover black Patons Classic Wool from
Center Square
.