Well, Christmas is in 13 days... that's right, 13. So far, I still need to knit a hat, a scarf, and I'm sure there are other things I've blocked out.
This hat
is one of my new favorite patterns and I can't wait to knit it for myself. It looks finished, but don't be fooled. I didn't have size US 11 dpns, so I tried to use a circular needle with the Magic Loop, it's very gappy and horrific. I will either get some 11's or just use my 10 1/2's. Either way, my Secret Santa ought to really like this hat... I hope.
I do not have a picture of my Mom's purple scarf right now, but I will have one soon. Plus it's only about 5 rows into
the pattern
.
I had some friends over who thoroughly enjoyed learning to knit. See what I mean?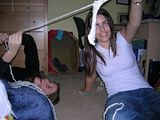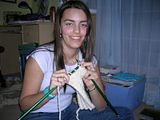 Her scarf is really amazing: RIBS ON HER FIRST DAY!!!
She also called me tonight to tell me she finished her first 100 g skein *tear* and needs my help in attaching the new skein. Oh so excited, yet another convert.
I went to Loops again today and picked up some great yarn--- which actually have intended projects, a rarity. Some
Debbie Bliss Cashmerino Aran
for
Fetching
, which I've already cast on (I'm almost done with the first right now, but I took the picture earlier), and some
Mission Falls 1824 Wool
for Cabled Footies from
One Skein
.